(Offut Air Force Base, NE) An Air Force security contractor, Offutt Air Force Base, the United States, the current and former secretaries of the Air Force, as well as the commanders of Strategic Command and of the 55th Wing have been named as defendants following a 2012 incident where the plaintiff's mother claims the military used excessive force against son.
Zachari Johnson, 21, died at an Omaha hospital after Douglas Bickal, an Air Force security contractor with police experience, shot him in the chest when he crashed a car through a base gate June 4, 2012.
Michelle Ogden, mother of the deceased, said in the complaint the guard had not exhausted all other nonlethal options and called the use of lethal force unjustified.
Omaha attorney Justin High said Bickal had a duty to refrain from using deadly force unless he reasonably believed it was necessary to protect himself, or others, against serious bodily harm or death. The complaint also alleged the guard's superiors also were responsible for negligent hiring and supervision for putting him in a position to shoot and kill Johnson.
The Sarpy County Sheriff's Office said Johnson was in a stolen vehicle when he raced north and tried to leave Offutt through the Kenney Gate when Bickal fired at the car three times striking Johnson in the chest.
According to police, Johnson was trying to evade officers when he drove onto the installation.
High said Johnson had not committed any criminal acts that would have warranted deadly force.
Air Force installations are posted that it is unlawful to enter the installation without permission of the installation commander. Warnings also state people entering the installation and their property are subject to search and that use of deadly force is authorized.
Following the incident, Air Force officials said the guard was following protocol.  "Offutt officials became aware that a police pursuit was heading their way just seconds before the man reached the base's Main Gate, where thousands of cars enter and exit daily," said Brig. Gen. Donald Bacon, commander of the Air Force's 55th Wing, which controls base operations.
The base had the option and ability to use lethal force at the Main Gate, Bacon said, but chose not to because of the split-second nature of the incident as well as the safety of personnel and other drivers clustered at the gate, according to Kearney Hub.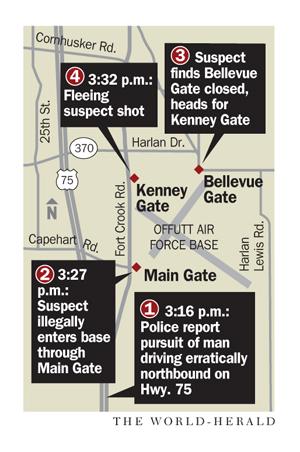 Offutt AFB is home to the 55th Wing and the U.S. Strategic Command.
© 2016 Bright Mountain Media, Inc.
All rights reserved. The content of this webpage may not be reproduced or used in any manner whatsoever without the express written consent of Bright Mountain Media, Inc. which may be contacted at info@brightmountainmedia.com, ticker BMTM.